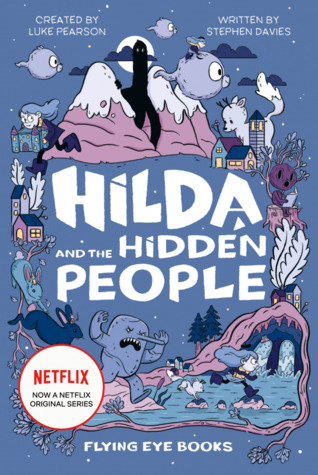 Title: Hilda and the Hidden People
Author: Luke Pearson
Release Date: 9/4/2018
Publisher: Flying Eye Books
Pages: 176
Buy it!
This post does contain affiliate links. I will receive a small amount from any purchases made.
Meet Hilda: explorer, adventurer, avid sketchbook-keeper and friend to almost every creature in the valley! Join our beloved heroine as she encounters her very first troll, negotiates peace with some very persnickety elves, and reunites two lovelorn ancient giants. Fantastic creatures and daring adventures are all just part of another average day for Hilda, but what will she do if she is forced to move to Trolberg city, far away from her beloved valley home? Dive into the adventure with this illustrated chapter book, based on the first two episodes of the show.
I didn't love this as much as the Netflix show, but it was still endearing! A trait that I really loved about Hilda from the show was how inherently kind she was, and unfortunately she seemed to be missing that in this novelization. She was still full of spunk, but not nearly as kind, and therefore didn't feel entirely like Hilda. I also missed how supportive her mom was in the show. There weren't many appearances of Hilda's mother, but every time she popped up she seemed to be criticizing Hilda, and that really just made me so sad.
This novelization did a great job of containing the same events that the series portrayed, while still bringing a fresh and fun twist to things. I adored the illustrations scattered throughout the text, and the binding of the book is absolutely beautiful. Not only is the dust jacket eye catching and fun to look at, but underneath is just as wonderful. I'm thankful they put so much care into this story and I loved being able to revisit these adventures in a different format while I wait for season two of Hilda on Netflix!