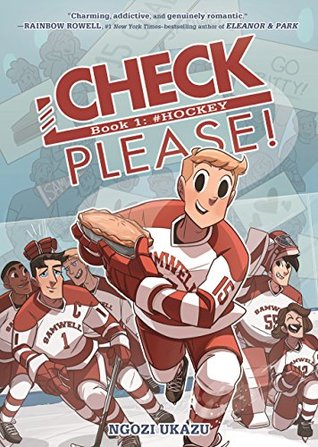 Title: Check, Please! #Hockey, Vol. 1
Author: Ngozi Ukazu
Release Date: 9/18/2018
Publisher: First Second
Pages: 288
Rating: 4 stars
Buy it!
This post does contain affiliate links. I will receive a small amount from any purchases made.
Helloooo, Internet Land. Bitty here!
Y'all… I might not be ready for this. I may be a former junior figure skating champion, vlogger extraordinaire, and very talented amateur pâtissier, but being a freshman on the Samwell University hockey team is a whole new challenge. It's nothing like co-ed club hockey back in Georgia! First of all? There's checking. And then, there is Jack—our very attractive but moody captain.
A collection of the first half of the megapopular webcomic series of the same name, Check, Please!: #Hockey is the first book of a hilarious and stirring two-volume coming-of-age story about hockey, bros, and trying to find yourself during the best four years of your life.
I really enjoyed the art and humor of this one. The story line was hit and miss. I'm not too familiar with hockey, so it was nice to read something different. I loved the characters and the ending was perfect. ‬
Bitty being a vlogger was a really neat addition to his character, and I absolutely adored his love of baking. His personality was also fantastic as well and I found myself chuckling at the things he would say and do a lot.
While I did enjoy this, it didn't completely click for me, and I'm really not sure why. It was great, and I'll definitely want to read the second volume when it's released, but it wasn't my absolute favorite thing ever. I do prefer to read things when they come out in collections or volumes, but since this is originally a web comic, if reading things in installments is your thing, be sure to check the author's Tumblr and catch the action as it happens.